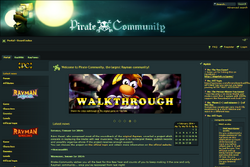 Pirate-Community
, commonly abbreviated to
PC
or
RPC
, is the largest
Rayman
community.
History
The Pirate-Community, founded in August 8th 2003, was originally the fusion of four fan sites but soon became an influential and active internet portal. It's activity is greatly due to its forum, which was a way to provide a fair and free place for Rayman fans, in opposition to the arbitrary bans occurring on RaymanZone.
The community celebrated its tenth birthday on August 8th, 2013, with a new theme for the board making its debut for the celebration. As of February 2014, more than 874,000 messages have been posted on Pirate-Community.
Features
Even though Pirate-Community is still mostly visited for its forums, the site hosts a variety of other features for fans to use and contribute to.
Hosted Sites
The following are sites hosted by the Pirate-Community.
Additional Features
On February 25th 2009, a new Rayman 3 Hall of Fame was created on Pirate-Community, in order to replace the official one, which was long discontinued.
External Links
Community content is available under
CC-BY-SA
unless otherwise noted.